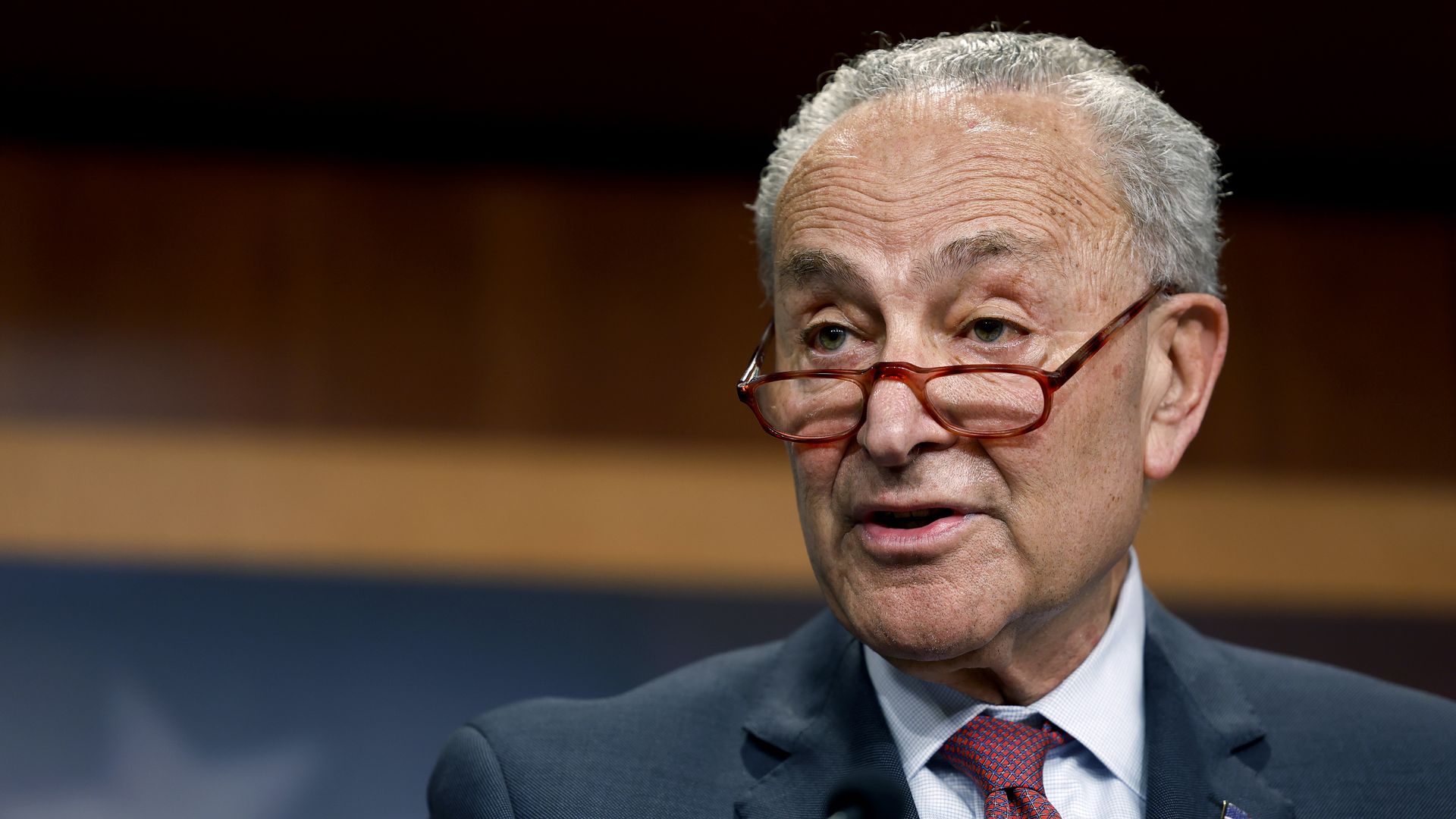 Sen. Majority Leader Chuck Schumer (D-N.Y.) speaks to reporters at a press conference at the U.S. Capitol Building on April 17, in Washington, D.C. Photo: Anna Moneymaker/Getty Images
Senate Majority Leader Chuck Schumer (D-N.Y.) said he would try to hold a vote Tuesday afternoon to temporarily replace Sen. Dianne Feinstein (D-Calif.) with Sen. Ben Cardin (D-Md.) on the Senate Judiciary Committee.
The big picture: Senate Republicans will almost certainly block the measure to temporarily replace Feinstein, whose absence after being hospitalized with shingles has stalled Democrats' efforts to advance judicial nominees.
Schumer's choice of Cardin doesn't change the calculus for Republicans, according to a senior GOP aide, who told Axios, "That ship has sailed."
Driving the news: Schumer did not answer when asked Tuesday whether Feinstein should consider resigning if she does not return by May.
"I spoke to Sen. Feinstein just a few days ago and she and I are both very hopeful that she will return very soon," Schumer said before announcing Cardin would be his top pick.
What we're hearing: Schumer will try to get unanimous consent to swap the two senators at 4:30 pm, according to a Senate aide.
Sen. Lindsey Graham (R-S.C.) is expected to block the move, meaning Schumer will have to put it to a full floor vote.
Zoom out: More than a half dozen Senate Republicans, including members of leadership, told Axios on Monday that they would oppose Schumer's effort to temporarily substitute Feinstein.
Some Republicans signaled more openness to filling Feinstein's seat if she were to resign altogether.
Feinstein, 89, has faced pressure from her own party to resign from the Senate Judiciary Committee, where Democrats cannot advance judicial nominees who do not have Republican support.
Editor's note: This story has been updated with additional developments.
Source: Read Full Article