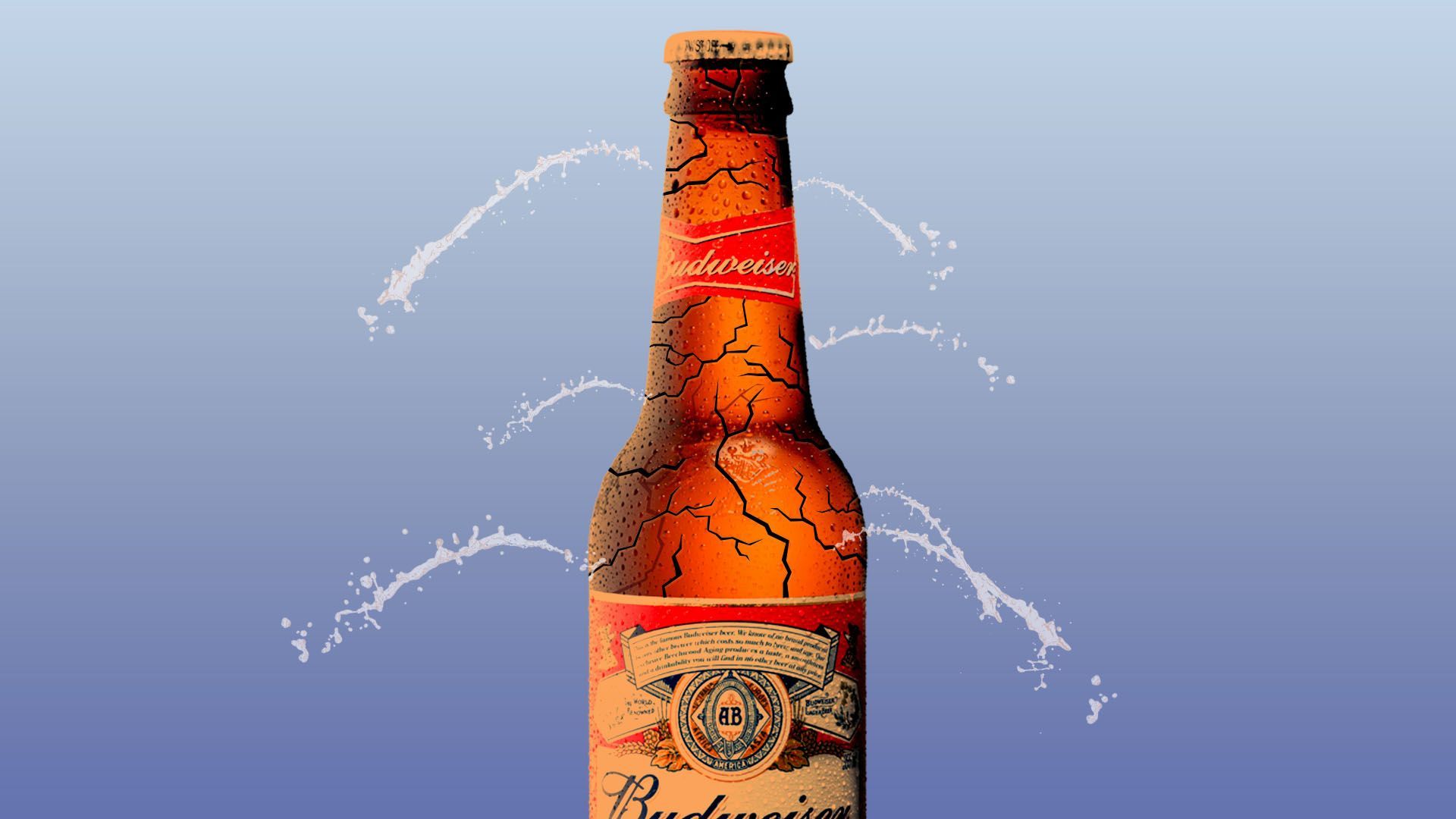 Illustration: Sarah Grillo/Axios
Few events capture so perfectly the cultural, political and social toxicity of America as the Great Bud Light Debacle of 2023.
Why it matters: One transgender social-media influencer, Dylan Mulvaney, radically changed beer sales and stock prices — literally overnight — after a conservative backlash spread, bar to bar.
Catch up quick: On April 1, Bud Light sent Mulvaney an influencer package — a glorified swag bag — to celebrate the one-year mark of her coming out as trans.
The package featured bespoke Bud Light cans with illustrations of Mulvaney's face, which she showed off in an Instagram video.
That set conservative, anti-trans pockets of social media on fire — and left Republicans scrambling to protect a big donor from attacks by the right.
5,600 news articles were published about the controversy in two weeks. The news received over 6 million social interactions (likes, shares, comments), according to NewsWhip data.
The most-shared articles came from right-wing publications, including The Blaze, The Daily Wire and Rare.us. Ben Shapiro, who has 5.5 million Twitter followers, and Kid Rock — who fired a rifle at cases of Bud Light — called for boycotts.
The fallout: Anheuser-Busch InBev shares momentarily dropped by 5%, leading to a loss of over $6 billion in market value.
A week into the inferno, Anheuser-Busch CEO Brendan Whitworth finally issued a vague statement — "Our Responsibility to America" — that danced around the backlash, further alienating the hard right and left.
But the statement seemed to appease shareholders. The company's stock began to rise after some conservative voices, including Donald Trump Jr. (9.8 million Twitter followers) called for the boycott to end.
What this captures:
The emflamed politics around transgender rights.
The lack of perspective or grace from vocal transgender opponents.
The speed of viral vitriol.
The speed of efforts to capitalize off viral vitriol.
The unpreparedness of companies to respond to social-media uprisings.
Context: Anheuser-Busch and its employees overwhelmingly support Republicans through donations.
Yet the company also maintains a perfect score on the Human Rights Campaign's Corporate Equality Index, which measures inclusivity in the workplace.
Between the lines: Remember the power imbalance. Trans issues are talked about a lot now. But trans people remain a small, largely marginalized group.
The big picture: For trans people, political issues are a matter of life and death. Across the country, bills are being debated and passed that take away their rights to access health care.
For the right, it's a wedge issue. A front-page New York Times story on Sunday reported that after the Supreme Court in 2015 declared a right to same-sex marriage, the religious right needed a new issue to "galvanize rank-and-file supporters and big donors."
Source: Read Full Article