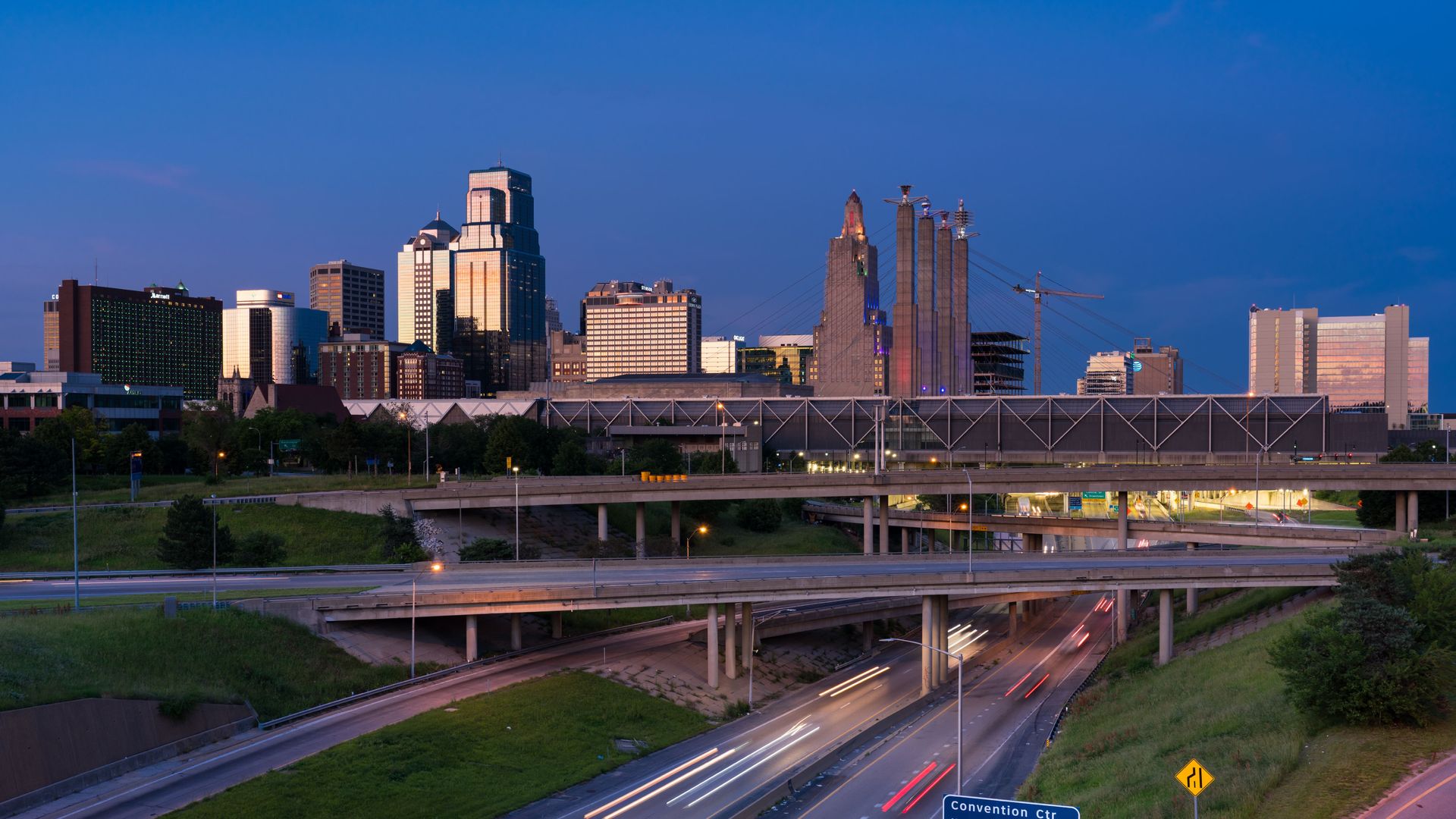 Kansas City Skyline at dusk with traffic and streaked lights and car trails. Photo: Joe Sohm/Visions of America/Universal Images Group via Getty Images
A Black teenager was shot last week in Kansas City, Mo., after he mistakenly rang the doorbell at the wrong house to pick up his siblings, attorneys for the teenager and his family said.
The big picture: Police have not identified the teen, but family members and his attorneys have identified him as 16-year-old Ralph Yarl.
Civil rights attorneys Ben Crump and Lee Merrit, who are representing Yarl and his family, said in a statement that Yarl is "alive and recovering," after they say he was shot twice and struck in the head and arm by a white male.
What we know about the shooting
Kansas City Police said during a news conference Sunday that police were called to a residence just before 10 p.m. on April 13, where a teen was shot in front of the residence by a homeowner.
The teenager was taken to a local hospital for his injuries.
Police said that the homeowner, who has not been identified publicly, was taken into custody and put on a 24-hour investigative hold.
The homeowner was released "due to the need to obtain a formal statement from the victim, forensic evidence and compile additional information for a case file to be presented," Kansas City Police Chief Stacey Graves said Sunday.
Police said that they did not believe the incident was racially motivated, but it is still an "active investigation."
"The information that we have now, it does not say that it's racially motivated, that's still an active investigation, but as a chief of police I do recognize the racial components of this case," Graves said.
Police did not say how many times the teenager was shot, nor did they confirm whether he was shot in the head.
According to a GoFundMe page organized by Faith Spoonmore, who said she is Yarl's aunt, the teenager mistakenly went to the wrong house, one block away from where he was supposed to go, to pick up his younger brothers.
A spokesperson for GoFundMe verified the fundraiser for Ralph Yarl on Monday.
Outrage after the shooting
Demonstrators gathered in Kansas City after the shooting, demanding action against the suspected shooter and showing support for Yarl's family, per the Kansas City Star.
Protesters gathered outside the house where Yarl was shot and called for hate crime charges to be issued against the shooter, per KCUR.
Attorneys for Yarl and his family demand "swift action from Clay County prosecutors and law enforcement to identify, arrest and prosecute to the full extent of the law the man responsible for this horrendous and unjustifiable shooting," per the statement.
"There can be no excuse for the release of this armed and dangerous suspect after admitting to shooting an unarmed, non-threatening and defenseless teenager that rang his doorbell!" the attorneys said.
What we know about Ralph Yarl
Spoonmore wrote on the GoFundMe page that Yarl is a member of the Technology Student Association Science Olympia Team and the jazz and competition bands.
"Even though [Yarl] is doing well physically, he has a long road ahead mentally and emotionally," Spoonmore wrote.
"The trauma that he has to endure and survive is unimaginable."
Spoonmore did not immediately respond to Axios' request for comment.
Source: Read Full Article