New Zealand's latest Covid-19 episode has prompted some to look to Taiwan, pointing out how it's largely managed the pandemic without lockdown. But can we really compare ourselves? Jamie Morton looks at three big differences.
A dedicated agency
Amid another Auckland outbreak, Act leader David Seymour and National's Chris Bishop have both pointed to Taiwan as an exemplar of Covid-19 management.
It's true that, at a glance, New Zealand does trail the Asian island state for pandemic performance.
With a population of 23.8 million, and a population density of 671 people per kilometre, Taiwan has recorded fewer border and community cases than New Zealand, and fewer deaths.
Up until August last year, Taiwan reported a lower incidence rate – 20.7 cases per million – compared with New Zealand's 278 per million.
Despite being only about 1000km from the pandemic's epicentre, in mainland China, Taiwan was able to eliminate the virus by April 2020 – and has enforced minimal restrictions on movement.
New Zealand, by contrast, has now seen a nationwide lockdown – and three more in Auckland.
But can we truly compare?
Even at the Covid-19 pandemic's outbreak, Taiwan already had in place impressive infrastructure to meet the threat.
Its Centres of Disease Control (CDC) opened just a few years before the first SARS outbreak in 2003 – and that emergency prompted Taiwan to also establish a centralepidemic command centre.
"We are talking about a well-prepared, well-resourced system with a clear function of controlling disease," Otago University epidemiologist Professor Nick Wilson said.
"From the start, Taiwan was so proactive in wanting to figure out what was happening in China that it sent a team over to Wuhan to investigate. That was extremely productive, and led to its rapid response and controls."
One study analysing New Zealand and Taiwan's Covid-19 responses, led by Otago's Dr Jennifer Summers and co-authored by Wilson, noted how that included the immediate screening of all airline passengers arriving from Wuhan.
That was eventually extended to all passengers coming in from high-risk areas in late January, and then all travellers by early February.
Laws under Taiwan's Infectious Disease Control Act 2007 enabled officials to access the informationthey needed.
Close contacts of confirmed cases or travellers returning from high-risk countries were required to quarantine at home for 14 days – but monitored through personal or government-dispatched phones, and in-person checks.
New Zealand's pandemic plan was meanwhile entirely targeted at influenza, which limited its ability to other pandemic diseases like Covid-19.
It also had no established infrastructure for addressing a pandemic like Covid-19 until at least early March 2020.
"We had no one in the ministry that is what you'd call an infectious diseases epidemiologist, so we were very light on expertise – and that was partly because our public health system has been run down for decades."
Instead, he said, most of New Zealand's experts were scattered about universities.
New Zealand once had the NZ Communicable Disease Centre – a business unit within the Department of Health – but it was closed in 1992, with its functions transferred to a newly-formed ESR, and then contracted back to what became the Ministry of Health.
More recently, there have been efforts to make the university-led, disease-focused research alliance One Health Aotearoa a Government-funded Centre of Research Excellence – but bids have failed.
Mass-masking
Mask wearing might have proven a learning curve for New Zealand – but it's long been part of culture in Taiwan and other east Asian countries.
In the earliest days, Taiwanese people immediately began wearing face masks while out and about, while authorities turned to hospitals and checked who was coming in and out.
"Mask use in Taiwan showed up as early as January – and it was voluntary," Wilson said.
"They really didn't waste any time arguing over whether masks work or not, like New Zealand did."
On January 24, well before the virus had spread across the world, Taiwan's government announced a ban on the export of face masks so it would have enough stock.
When Central Epidemic Prevention Centre's commander said, on February 8, that masks wouldn't be needed on public transport, protests ensued.
While earlier adopting recommendations that healthy people didn't need to wear masks in open spaces, by December, Taiwan had rolled out strict new rules requiring masks in eight types of public venues.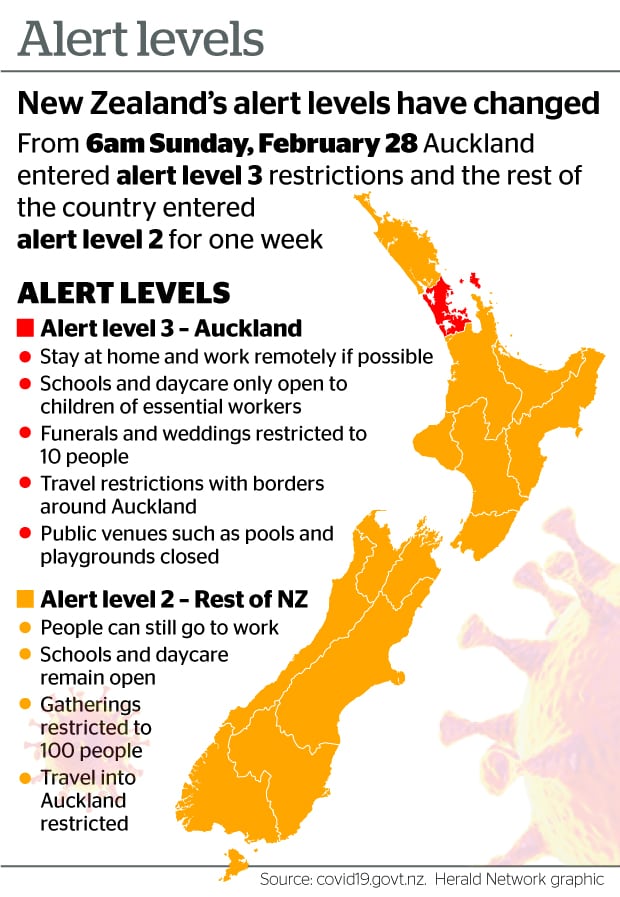 Long after Otago experts like Wilson and Professor Michael Baker began calling for wider mask use in New Zealand, it wasn't until the August Auckland Cluster blew up that the Government made them required on public transport at alert level 2.
Wilson pointed out that Air New Zealand passengers weren't required to wear them until January this year, and it was only last month that they became mandatory on public transport at all alert levels.
"Right now, under alert level 3, they're still not required in public indoor places – if this could be made mandatory, it might help get us out of lockdowns faster."
Smart tech
Perhaps the biggest difference was Taiwan's use of smart technology – some of which would likely raise privacy worries for Kiwis.
One example is a real-time alert system that links people's travel history to their national health insurance cards, so hospitals can pinpoint cases in real-time.
It gave officials the power to obtain people's occupation, contact history, and clustering at mass gatherings, at any time.
Taiwan also used a GPS-based system for contact-tracing and quarantine monitoring, called the Intelligent Electronic Fences System (IEFS).
Based on phone signals and nearby cell towers, it triangulated the location of quarantined individuals, monitoring the nation's entire quarantined population and any potential people they may come into contact with.
It similarly tracked them in real time – but also retrospectively, for up to a month.
In February 2020, it was used to track nearly 630,000 potential contacts with passengers from the cruise ship Diamond Princess, and advised them to stay at home.
A few months later, IEFS identified all places that crew members from a contaminated naval vessel visited, and informed all potential contacts.
Despite the impact on people's privacy, there have been relatively little objections from the Taiwan public about these systems – partly owing to trust in government during pandemics.
Wilson had repeatedly advocated for digital-tracking of arriving travellers as they go through MIQ, along with border workers.
"This is where New Zealand is very different, because the Government has just refused to explore these options because of privacy issues," he said.
"In my view, this is a lost opportunity. We could have potentially figured out a law that would protect people's privacy as much as possible in the extreme situation of an epidemic spreading within the country," he said.
"We could have run citizen juries that asked people, would you be prepared to have GPS tracking if your cellphone or bank records were looked at?
"And if there was a risk of thousands of people dying, I think many people would say that's a worthwhile trade-off, so long as there were safeguards built in that stopped the information being misused."
It's worth noting, however, that even if New Zealand did try to replicate Taiwan's tracking infrastructure, the cost would likely come in the tens of millions of dollars – and take time to bring online.
Wilson said there were indeed plenty of lessons we could learn from Taiwan.
He and his colleagues have suggested adopting our own national public health agency, investing more in infrastructure, technology and workforce training, and establishing more public buy-in for virus-busting measures.
Still, he thought making a New Zealand versus Taiwan comparison now was more a case of apples and oranges.
"And it's certainly a bit rich, Act talking about lessons from Taiwan, in that they were never calling to set up a CDC over the last 10 years," he said.
"Also, both Act and National are both very keen on protecting individual liberties, and yet, here's Taiwan, which is prepared to sacrifice some of those liberties for pandemic protection. So it's all a bit ironic."
Source: Read Full Article